Award-Winning BBQ & Southern Specialties Served Alongside American Craft Beers
bBQ, folk & soul
Every morning, before the sun comes up, our pitmasters are busy firing up the smoker to serve you the freshest, tastiest meats. We smoke our ribs all day to ensure you get them straight off the pit. We believe in buying locally. Our menu is smoked in Ole Hickory Pits, built in Saint Genevieve, and smoked with a combination of wild cherry and hickory sourced from Terry, "the woodman", from Perryville, Missouri. The cherry gives a subtle sweetness and gorgeous color to the meat, balanced with a touch of hickory for that rounded, uniquely smoky finish. We take inspiration from across the United States, but like to dance to the beat of our own drum, infusing different smoking techniques from X, Y and Z. Our focus is, and always will be, rustic American cuisine.
Our kitchen cooks from scratch. Try our legendary Burnt Ends, a smoking recipe developed by Corey, Pitmaster of Grillas Team and winner of KC Royal 2003. Our Tri-Tip Steak is an Argentinian technique, simply marinated and rubbed with salt, pepper, rosemary & garlic. Our ribs are smoky, sweet and sticky. Our chicken is smoked whole and pulled for every sandwich. We make our own bacon resulting in our famous Walnut Bacon appetizer. The list goes on … in short, we cut no corners and we love what we do: good folk, fresh bbq and honest, soulful food.
We look forward to welcoming you.
Sincerely and Cheers,
Ally Nisbet
Owner
$

9.99
Smothered Fries
Pulled rib and pork meat over hand cut fries topped with cheese sauce and freshly grated sharp cheddar
$

12.99
Duck Confit
Thigh slowly poached in duck fat, served over greens in cider molasses with grilled bread
$

9.99
House Smoked Salmon Potato Cakes
Pan seared with cherry smoked remoulade
$

5.50 /

$

9.99
Smoked Chicken Wings
Slow smoked served with mango, ginger & habanero bbq sauce
$

4.99
Buttermilk Cornbread
Served in cast iron skillet with side of honey butter (15 minute prep time from 11-5)
$

8.50
Walnut & Brown Sugar Bacon
House cured, served with pears & bleu cheese
$

11.99
Burnt Ends
Slow smoked for many hours tossed in black isle bbq
$

9.99
Spinach and Artichoke Dip
Served in a cast iron skillet , smoked mozzarella, parmesan
$

12.99
Pulled Pork
Apple, crispy bacon, bbq onions & white cheddar
$

13.99
Duck Confit & Smoked Mozzarella
Spinach, dried cranberries & sweet bourbon drizzle
$

13.99
Three Cheese & Vegetable
Parmesan, white cheddar, american, white bbq sauce, green peppers, red onions, spinach & smoked tomato
$

5.99 /

$

9.99
House Salad
Mixed greens, cranberries, goat cheese & toasted pine nuts with cider molasses dressing
$

5.99 /

$

9.99
Caesar Salad
Classic preparation with romaine, shaved parmesan & herb croutons
$

8.99
Wedge Salad
Iceberg lettuce, crispy bacon, cherry tomatoes & shaved red onion with ranch dressing
$

5.99 /

$

9.99
Spinach Berry Salad
Goat cheese, fresh berries, walnuts, red onion, and a mixed berry vinaigrette
$

5.99 /

$

8.99
Seafood & Andouille Gumbo
Served with a side of rice. Habanero & Cascabel
$

5.99 /

$

8.99
Classic Ancho
Ground chiles, red and cannellini beans, and ground beef
$

5.99 /

$

8.99
Duck & Smoked Jalapeno
Jalapenos
$

10.99
Chili Mac
Our famous mac & cheese topped with either chili and sprinkled with white cheddar and green onions
$

10.99
Pulled Pork Sandwich
Slowly smoked for hours over wild cherry & hickory, served with one side
$

11.99
Smoked Tri-Tip Sandwich
Marinated, thinly sliced to order, rubbed with rosemary, garlic, salt & pepper, served with one side
$

11.99
Pulled Chicken Sandwich
Slowly smoked whole and pulled to order, served with one side
$

14.99 /

$

24.99
Baby Back Ribs
House rub, smoked with cherry wood, glazed, served with one side
$

13.99
Smoked Meatloaf
With a root beer glaze, served with one side
$

13.99
Bratwurst Burger
Brat meat, smoked onions, melted swiss cheese, spinach, dried mango & maple dijon sauce, served with one side
$

9.50
Vegetable & Smoked Mozzarella Sandwich
Brussel sprouts, tomatoes, red peppers, smoked habanero sauce, served with one side
$

11.99
Loaded Smoked Potato Wedges
Loaded with pulled pork, baked beans, bacon, white cheddar & smoky Bourbon bbq sauce
$

9.99
Loaded Vegetable Potato Wedges
Loaded with chef's choice of fresh vegetables, a blend of 3 cheeses & Alabama style white bbq sauce
$

14.99 /

$

18.99
Two Meat Plate/Three Meat Plate
Choice of Pork, Tri-Tip, Chicken, Meatloaf, Burnt Ends (Limited Availability) served with one side (toasted bun/bread .75)
ADD 3 BABY BACK RIBS FOR $6.00
$

22.99
Slow Smoked Duck Breast
With a cherry juniper jam, served with choice of one side
$

13.99
Shrimp n' Grits
Sauteed shrimp over jalapeno & cheddar grits
$

13.99
The B.O.S.S
Thinly sliced tri-tip smothered in bacon swiss sauce topped with onion rings on brioche bun, served with choice of one side
$

10.99
Brisket Point Burger
Fresh ground daily in house with white american cheese and lettuce, tomato, and onion with choice of one side
$

15.99 /

$

22.99
Smoked Roasted Chicken
Seasoned, smoked and roasted to order, served with choice of one side (Half/Whole)
Caramelized Onion Mashed Potatoes
Bottle Beers
We like beer. A lot. St. Louis has exploded with world class craft breweries, keeping fans of hops, malts and the magical things that happen when they are combined very, very happy. The Shaved Duck is proud to be a go-to spot in the Lou for local craft beers, while also boasting impressive selections from the rest of America's thriving artisan beer scene. With four rotating tap handles and dozens of bottles beauties, you are sure to find something you like.. and a lot of things you probably don't know you like. We want to challenge your palate.. and at the end of the day, nothing goes better with good BBQ than good beers.
Here are some examples of beers we carry, have carried and probably will again. Keep in mind that our current menu may not reflect what you see below. We carry a great number of seasonal and special releases that rotate on an almost weekly basis. We have a full bar and wine available also.
$

6.00
2nd Shift "Technical Ecstasy" Pilsner
Brewed with Bohemian Pils malt and Saaz hops Technical Ecstasy pours a stunning hazy straw color with an enormous dense white head, the hallmark of a fresh Pilsner. The hops' floral, slightly spicy aroma immediately lures you in. (5.4% ABV)
$

6.00
Schlafly Raspberry Hefeweizen
A smooth, full bodied unfiltered wheat balanced with malted barley, Oregonian hops and a hint of spice. Raspberries make it a delightful summer treat, bringing a refreshing note to this already delicious beer. (4.4% ABV)
$

6.00
Santa Fe "Lustgarden" Dark Lager w/ Raspberries
When grain and yeast love each other very much, a beer is born. When you add raspberries, things get a little freaky- deaky and you end up with this. Lustgarden is a dark lager that has toast and chocolate notes with the subtle hint of raspberry. (5.5% ABV)
$

7.00
Lagunitas Imperial Stout Ale
Big, black, bourgeois, bolshoy, belligerent, boxum and scary. Made with highly roasted malted barley and plenty of it, to give the beer an uncommon richness and smoky, roasty depth. (9.9% ABV)
$

3.50
Bud/Bud Light American Lager
$

7.00
Brick River "Cornerstone" Cider (16 oz)
Classic semi- dry crystal clear effervescent cider with clear notes of fresh apple & hints of the earth from which it came. ( 5.5 % ABV) Gluten Free
$

7.00
Seattle Cider "Basil Mint" Cider (16oz)
Made from a variety of apples fermented with fresh basil and mint, this off- dry cider starts savory and floral, complemented perfectly by a tart, clean finish. (6.9 % ABV) Gluten Free
$

6.00
Brooklyn "Bel Air" Sour Ale
Brooklyn Bel Air Sour is full of surprises. This sour ale starts up with bright notes of tropical fruit yet finishes crisp and gently tart. It's a trip that's laid back, breezy, and completely refreshing. (5.8% ABV)
$

6.00
St James "McIntyre" Peach Cider
Juicy peach aromas mixed with fresh apple notes. Clear, sparkling blond in color. Subtle flavors of biting into a ripe peach with juicy apple comes from pure fruit. Finish is clean and crisp. Gluten Free
$

7.00
Charleville "Long White Cloud" Pilsner
Refreshingly crushable Pilsner brewed with all New Zealand hops offers subtle lime zest and stone fruit (5% ABV)
$

6.00
Charleville "Half Wit" Wheat
A cross between an American Wheat and a Belgian Wit, this refreshing ale is made with white wheat, ground coriander, and fresh whole oranges! (4.5% ABV)
$

6.00
Bell's "Oberon" Wheat Ale
Oberon is a wheat ale fermented with signature house ale yeast, mixing a spicy hop character with mildly fruity aromas. The addition of wheat malt lends a smooth mouthfeel, making it a classic summer beer. (5.8% ABV)
$

6.00
Funkwerks "Raspberry Provincial" Sour Ale
This delightfully tart fruit beer is refreshing, with a citrusy berry aroma which transitions to a subtlety sweet and tart finish. (4.20% ABV)
$

4.00
Urban Chestnut "Urban Underdog" 16 oz
St. Louis' unexpected American Lager…Prost! (5.2% ABV, 19 IBU)
$

6.00
4 Hands "Contact High Juiced"
Not just another boring wheat ale. It a spring and summer seasonal, exciting by adding copious amounts of pacific northwest hops and dry hopping with fresh orange and mandarin zest. Pours a bright orange hue with a big citrus aroma . (5% ABV )
$

7.00
Tallgrass "Velvet Rooster" Belgian Tripel
This clean and crisp tripel boasts big, fruity esters and a slight peppery spice from Belgian yeast. It's bubbly like champagne with hints of citrus fruit, earthy grassy notes and a sweet, candy- like finish . (8.5% ABV)
$

6.00
Brooklyn Brewery Summer Ale
Summer in Brooklyn is all about following your impulses, winging it from beaches and barbecues to stoops and rooftops. Brooklyn Summer Ale is a refreshing, flavorful pale ale made to accompany you on all your warm weather fun. It's made with German and American hops to provide a snappy, clean bitterness and a bright, floral aroma. It's a sunny pale ale, Brooklyn style. (5% ABV)
$

7.00
4 Hands "City Wide" Pale Ale
City Wide is an American Pale Ale. It is our opportunity to make our mark on the St. Louis community by donating a percentage of proceeds to local non-profit organizations. The scope of our mission has always included more than just brewing beer. We strive to be a positive force in the St. Louis community. A portion of every City Wide purchase goes to one of our partner organizations, quarterly. Our goal is to empower our consumers, while giving back. This beer is exclusive to the STL in cans, but does make draft appearances in all of our markets. (5.5%)
$

7.00
Perennial "Saison de Lis"
A straw colored Belgian- style Saison brewed with chamomile flowers. It is fermented with traditional saison yeast strain that imparts fruity and spicy notes that dovetail perfectly with the tea- like quality of the chamomile. Finishes dry, tart, and refreshing. (5% ABV)
$

6.00
Mother's "TowHead" American Blonde
A crisp and easy- drinking riff on the classic Kolsch Ale that respects its German bloodline while holding its chin high as an American original. (5.2% ABV)
$

7.00
2nd Shift "Hibiscus Wit" Belgian Wit Beer (16oz)
This Belgian wit beer is perfect for hot summer day. Loaded up with freshness and hibiscus flowers. It's the best patio crusher we have to offer. (5.20% ABV)
$

7.00
Bell's "Two Hearted" Ale IPA
Brewed with 100% Centennial hops from the Pacific Northwest and named after the Two Hearted River in Michigan's Upper Peninsula, this IPA is bursting with hop aromas ranging from pine to grapefruit from massive hop additions in both the kettle and the fermenter. Perfectly balanced with a malt backbone and combined with the signature fruity aromas of Bell's house yeast, this beer is remarkably drinkable and well suited for adventures everywhere. (7% ABV)
$

9.00
Lagunitas "Hop Stoopid" Double IPA 22oz
A Double-Barrel Dose of Malt and Hops. The beer with a guarantee built right into the name, this one is destined to blast through the flavors from the night before. Massively dry-hopped for your aromatic pleasure. (8% ABV, 102 IBU)
$

5.50
Charleville "Tornado Alley" Amber Ale
Made with American variety hops used to produce a medium-high hop bitterness, flavor, and aroma. With a medium-full body, this ale has subtle fruitly aromas and flavors sure to please any beer lovers palate! (5.6% 27 IBU)
$

6.00
Dogfish Head "Flesh and Blood" Blood orange IPA
Brewed with a mouth puckering lemon flesh, sweet orange peel and blood orange juice. Flesh and Blood balances the resinous hoppy characteristics of an American IPA with the explosive zesty fruitiness and subtle drying tartness of citrus to deliver a highly quaffable ale that's incredibly unique and lovely to down the whole year round. (7.5% ABV 45 IBU)
$

6.00
Old Bakery Porter
A twist on the English classic with a bold, yet easy going black ale. It's chocolatey, nutty, roasty, and goes down smooth. (5.6% ABV, 35 IBU)
$

7.00
New Holland Dragon's Milk, Stout
A stout with roasty malt character intermingled with deep vanilla tones, all dancing in an oak bath. (11% 31 IBU)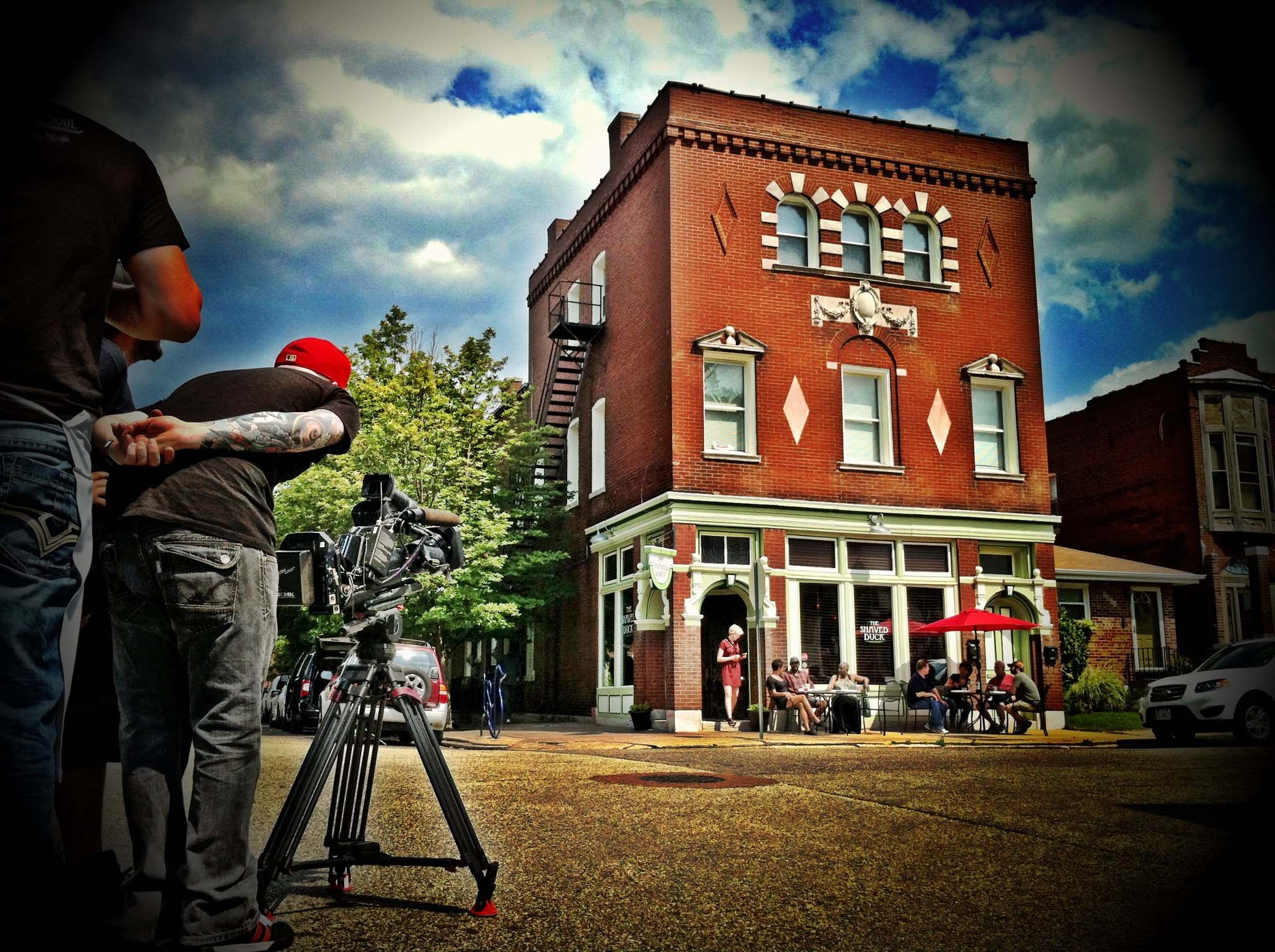 Visit Our Sister Restaurant in The Central West End!